Bridgeton Sanitary Landfill Facility Information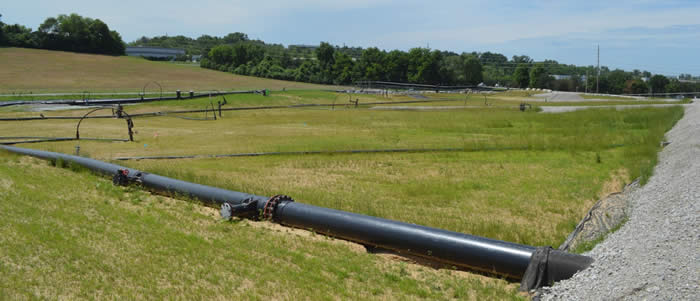 Photo of new grass growing on the east fill project area - Bridgeton
Landfill, May 31, 2018
Contact Us
Waste Management Program
P.O. Box 176
Jefferson City, MO 65102
800-361-4827
573-751-5401
This page provides citizens with access to pertinent information and online forms regarding ongoing compliance issues and activities related to a subsurface smoldering event and associated odors around Bridgeton Sanitary Landfill at 13570 St. Charles Rock Road in Bridgeton.

Bridgeton Sanitary Landfill Facility Information
Updated June 29, 2021
New Reports
Weekly Report - Leachate and Temperature
Weekly Heat Extraction Report
Monthly Reports


Bridgeton Air Monitoring Transition
Nov. 1, 2018 - On July 16, 2018, the Missouri Department of Natural Resources announced the transition of routine air monitoring activities at the Bridgeton Sanitary Landfill site to the parties responsible for operating the landfill. Click here for more information. Air monitoring data and reports may be found at the following website: http://www.bridgetonlandfill.com/air-monitoring.



Reports and Updates
Sept. 27, 2019 - - In accordance with Section IX.31.b of the Final Consent Judgement, Case No. 13SL-CC01088-01, dated June 29, 2018: Bridgeton Landfill, LLC submitted a request on Sept. 3, 2019, for termination of its daily air monitoring. Accompanying the request was a submittal titled "Summary of Daily Monitoring Path- Ambient Air Monitoring Associated with the Bridgeton Landfill, 13570 St. Charles Rock Road, Bridgeton, Missouri," also dated Sept. 3, 2019, and prepared by Stantec Consulting Services, Inc. *
The Department reviewed the request and submittal and found them acceptable per the terms and conditions of the Final Consent Judgment. The Department has approved Bridgeton Landfill, LLC's, request to terminate daily air monitoring because the facility met the conditions of Section IX.31.b, and demonstrated compliance with odor regulations for nearly three years.**
*Bridgeton Landfill Request Letter - Sept. 9, 2019
**MoDNR Approval Letter - Sept. 27, 2019
Aug. 13, 2019 - Bridgeton Landfill, LLC will mobilize drilling equipment to the site to expand/improve the gas collection and control system starting Thursday, Aug. 15. Drilling of new gas extraction wells should begin on Friday, Aug. 16, and continue for approximately 7-14 days. While drilling activities occur, air monitoring will be conducted using handheld instruments. Odor control efforts are planned to minimize the potential for odors. However, there is still the potential for off-site odors.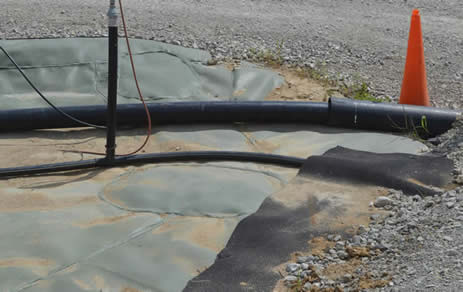 A recently abandoned perimeter extraction well in the South Quarry with the
new EVOH welded over area -- Bridgeton Landfill May 31, 2018


Disclaimer
This website is updated as information becomes available. If you have questions about document availability send an email to swmp@dnr.mo.gov.
The documents provided are electronic copies and are being provided for reference only. The official records may be reviewed at the Solid Waste Management Program's Office in Jefferson City at 1730 E. Elm St. For documents originating from other sources, the department takes no responsibility for the views, content or accuracy of the information provided. Where necessary due to privacy laws and other legal statutes, the original document may be redacted to keep protected information confidential.