Missouri Mine Repository
The department's Missouri Geological Survey is the official Missouri Mine Map Repository, established by the State Legislature in 1993 for the purposes of public safety and protection of property (section 256.112, RSMo).The Repository houses more than 2,000 maps of underground mines of various mineral commodities.
The Missouri Geological Survey, working under cooperative agreement with the U.S. Department of the Interior's Office of Surface Mining (OSM), inventoried, electronically scanned and archived 1,193 underground mine maps, of which 428 are for coal mines and 765 are for non-coal mines.
This website contains links to two databases (Microsoft Excel format). The first is a link to the complete inventory of mine maps, and includes information about commodity, location, mine name, map date and other pertinent information related to the map. The second database is organized by legal description (township, range and section) to allow searching by location.
If you have a map of an underground mine in Missouri and would like to share it with us to be added to the repository, please contact the Missouri Geological Survey at 573-368-2100.Donated or loaned maps are scanned as high resolution, color, archive quality images and entered into the department's archive. The electronic file is also sent to the Pennsylvania-based Office of Surface Mining for inclusion in the National Mine Map Repository. Maps that are donated will be scanned, cataloged and housed at the department's Rolla facility. Those loaned for scanning will be scanned, cataloged and returned to their owners.
Blue tint indicates counties in which underground mine maps are presently available. Click on the map for detailed information.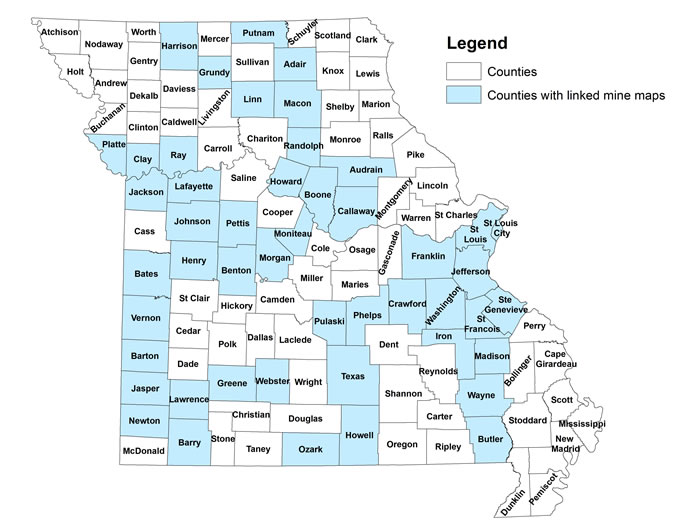 ---
Disclaimer – This information is inclusive of maps scanned by the Missouri Mine Map Repository. It does not contain maps for all underground mines in the State of Missouri.